Detection of Depression among Nurses Providing Care for Patients with COVID-19 at Baqubah Teaching Hospital
Keywords:
Depression, Nurses, Corona Virus Disease
Abstract
Objectives: The present study aims at detecting the depression among nurses who provide care for infected patients with corona virus phenomenon and to find out relationships between the depression and their demographic characteristics of age, gender, marital status, type of family, education, and years of experience of nurses in heath institutions, infection by corona virus, and their participation in training courses.
Methodology: A descriptive study is established for a period from October 10th, 2020 to April 15th, 2021. The study is conducted on a purposive (non-probability) sample of (100) nurse who are providing care for patients with COVID-19 and they are selected from the isolation wards. The instrument of the study is developed from Patients' Health Questionnaire (PHQ) to achieve the study objectives. Content validity of the instrument is determined through panel of experts and internal consistency reliability is obtained through pilot study. Data are collected through the use of the questionnaire and analyzed through the application of descriptive and inferential statistical approaches which are applied by using SPSS version 22.
Results: The results of the present study showed that nurses who were providing care for patients with COVID-19 age group (30-39 years) )37%(, males constituent the higher percentage than female 87%, (77%) of them is married, (59%) Small family of Nurses, )64%( level of education among nurses have diploma in nursing, and they have (1-5) years of experience in heath institutions among nurses about (40%), also (61%) of nurses not sharing in epidemiological training courses, and (58%) of nurses had previous work in isolation wards, (39%) of nurses have source of information from network, duration of work in isolation wards is (83%) of nurses who are work for more than four weeks, (70%) of nurses are not infected with corona virus, (96%) of nurses are having no history of mental disorders, (54%) of nurses are not drinking alcohol and having no problem with drug abuse. By using PHQ-9, the study finds that depression among nurses is (43%).
Recommendations: Psychological care counseling and guidance are necessary to increase nurses' vulnerability and strengthen their mental health which helps to encounter any psychological burden caused by COVID 19 pandemic.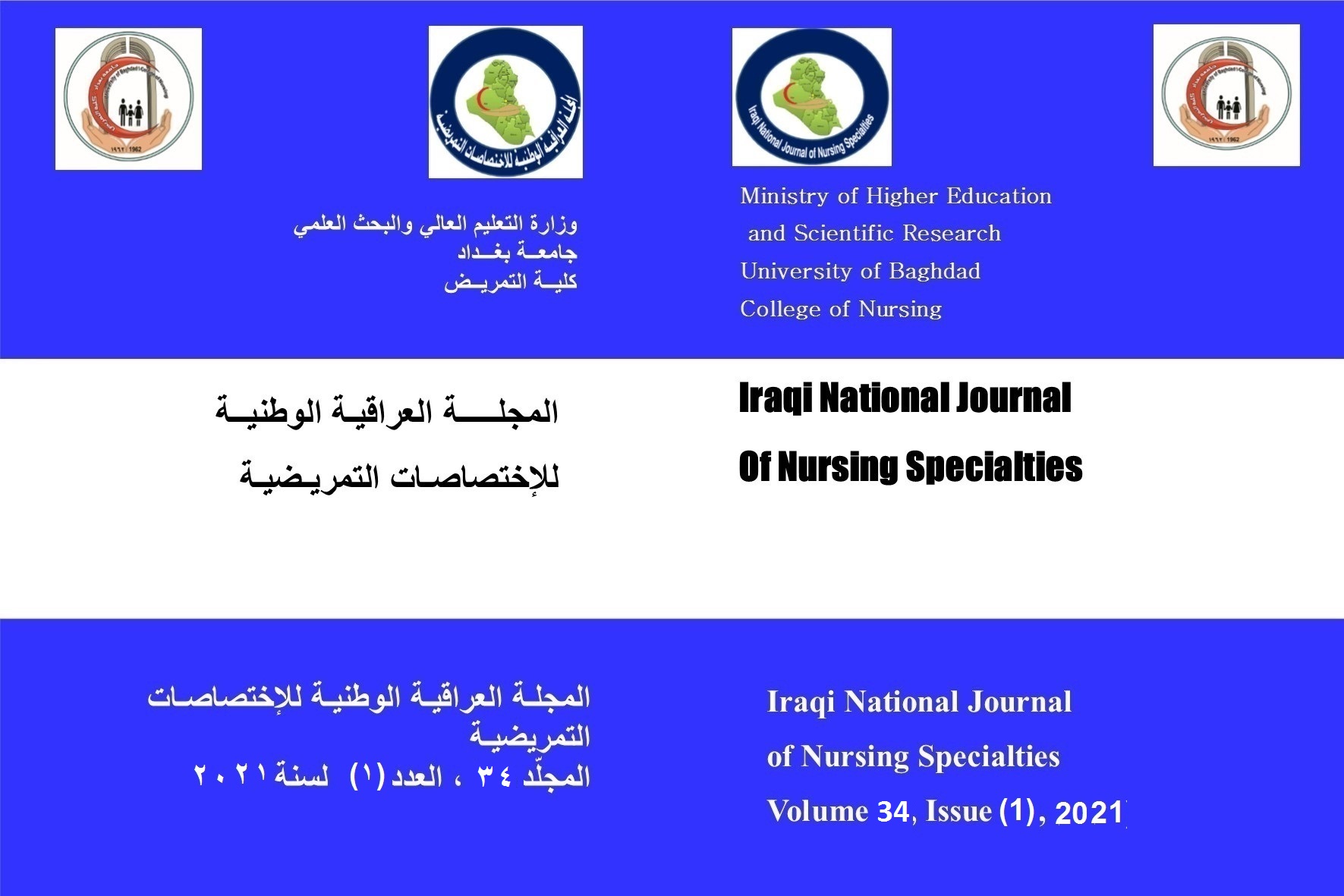 Downloads
How to Cite
Mohammed, D., & Bakey, S. (2021). Detection of Depression among Nurses Providing Care for Patients with COVID-19 at Baqubah Teaching Hospital. Iraqi National Journal of Nursing Specialties, 34(1), 86–94. Retrieved from https://injns.uobaghdad.edu.iq/index.php/INJNS/article/view/464